Uffe Jakobsen
Professor, MSO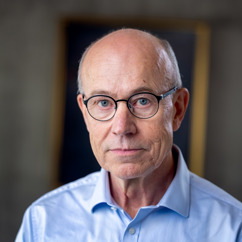 Adresse
Ilimmarfik, Manutooq 1
Postboks 1061
3900 Nuuk
---
Uffe Jakobsen is employed at Ilisimatusarfik as professor with special responsibilities in relation to research projects on maritime security and safety in the Arctic and societal security in Greenland. He has been employed at Ilisimatusarfik since February 2010. First as Vice Rector 2010-2013. While serving as the Vice Rector of Ilisimatusarfik, Uffe Jakobsen also served as Head of the Ilimmarfik Institute and Head of Department of Social Sciences. In February 2013, Uffe Jakobsen became employed at University of Copenhagen, Department of Political Science, and since then he has served jointly at both universities. At Ilisimatusarfik from 2013 to 2016 as external lecturer, from May 2016 as affiliated professor, and from January 2018 as professor with special responsibilities.
On behalf of Ilisimatusarfik, Uffe Jakobsen is participating in the international research projects MARPART (Maritime Preparedness and International Partnership in the Arctic), 2014-2018, and MAREC (Inter-organizational coordination of mass rescue operations in complex environments), 2018-2022, both directed by Nord University in Bodø, and financed by the Research Council of Norway (the SAMRISK (Societal Security and Safety) programme) and the Ministry of Foreign Affairs of Norway. He also participates in the International Network Programme on The Polar Code and Maritime Safety, 2020-2022, directed by Centre for Risk and Safety Management at University of Southern Denmark. On behalf of University of Copenhagen, Uffe Jakobsen is coordinating the Arctic Politics Research Group, participating in the UArctic Thematic Network on Arctic Safety and Security and overall responsible for the university's UArctic membership.
Uffe Jakobsen's teachings include several courses on Governance in the Arctic, Arctic-Asian relations, Greenland-Denmark relations, Nation-Building and State-Formation in Greenland, Security Risk Managenemt in the New Arctic, and Security and Foreign Policy in the Arctic and Beyond. Also, he has been responsible for a high number of master thesis and Ph.D. thesis supervisions and chairmanship of Ph.D. assessment committees on Arctic and Greenlandic issues.
Emner
Arktis-asiatiske forbindelser
Forvaltning i Arktis
Opbygning af en nation
sikkerhed til søs
Sikkerhedspolitik
Udenrigspolitik